January always calls for a fresh start, and if, like many others, you've decided to get fit and healthy this year, there's plenty at Meridian to help you out!
Our stores have a wide selection of products to help you take the steps towards a better you – read on to see our top picks.
If you're about to start the journey of becoming fitter, you may think that means joining a gym? However, there are other alternatives to get your body moving without the need for a gym membership.
Simply going for a walk or run is a good start to increase those endorphins; play your favourite music for motivation before and during your workout. Fitness watches are also becoming ever so popular, perfect for encouraging you to get your 10,000 steps in.
Outdoor games such as football, skipping or tennis are good for increasing your heart rate and burning some calories, and a great way to get the whole family involved.
Products featured (clockwise):
F.Hinds Garmin vívofit Jr. 3 Children's Smartwatch £55.00
CEX Apple Airpods 2nd Gen A2031+A2032 In-Ear (Wired Charging Case A1602) £95.00
Wilko Kickmaster Quick-Pitch Match Set £50.00
Bargain Buys Skipping Rope £1.19
ShoeZone Skechers Arch Fit Idyllic Men's Navy Trainer £79.99
The initial idea of changing your eating habits can seem a little daunting, but making the smallest of changes from portion size to swapping your favourite snacks to healthier options will make a big difference. Holland & Barrett have compiled a selection of tasty yet healthy lunch snacks to help maintain a healthy weight.
When deciding to go on a diet or make some cutbacks on what you eat, you may think that's the end of treating yourself? Fear not, coffee shops such as Costa Coffee and Boswell's Cafe now cater for many dietaries offering milk and sugar alternatives, meaning you can still have your favourite treats without too much compromise.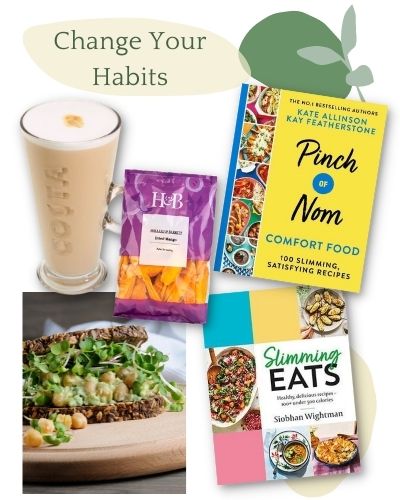 Now, even though you may be eating more fruit and veg, that doesn't mean you can push those vitamin bottles to the back of the cupboard. You will still need that extra oomph for a healthy body and mind. If you're not sure what vitamins would suit you, Holland & Barrett have shared the most popular multivitamins and supplements for 2022 to give you a helping hand.
If you're looking to gain muscle, protein shakes are the ones for you. From a selection of flavours to plant-based options, you won't be short for choice in finding the right shake for you!
Your mental health also needs a workout now and again. Reading books that encourage positivity will help increase a good mindset. Why not set time aside each day and write in a journal; note down all the things you are grateful for along with goals for 2022.
If you need more inspiration, check out our Pinterest board here for health and wellbeing products available within our stores at Meridian.
Prices are correct at the time of publishing.