With sunnier days on the horizon, it's time to plan for barbeques and get-togethers with family and friends 'alfresco'.  Start your summer off with a bang with our inspirational blog:
Dress the Part
Pack away those raincoats and wellies, and pull out your summer wardrobe, refreshed with a few new season purchases from Meridian retailers. Kit out the whole family with some essential pieces from Shoezone, like these ladies flip flops, the diamantes will add a subtle sparkle to any outfit.
If the man of the house likes to think of himself as the barbeque king, let him cook in style in these Penguin trainers (Shoezone), these on-trend retro trainers are super comfy and are perfect for standing by a hot grill all day long.
Don't forget your accessories! Pack a backpack for the kids with some games and treats to keep them occupied. There are some great selection of girls' backpacks from Shoezone, such as this pink unicorn backpack. For the boys, this fun dinosaur print is always a good shout and is just the right size for an adventure.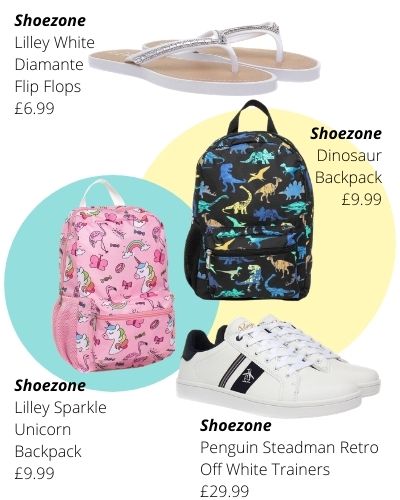 Don't forget to pack those bags with a few outdoor necessities. Protect your whole family against the sun's rays with Holland & Barrett SPF 30 sun cream. If the sun is becoming a little too hot to handle, cool yourself down with a handy paper fan. The Works have a great range of funky prints to choose from, the watermelon one is our fan of choice.
Keep yourself hydrated all day when out and about with WHSmith cute lemon water bottle, just looking at it is making us thirsty!
Picnic blankets are a must for some fun in the sun, pick up this pack of 2 from Bargain Buys, both of which can also be used as throws to keep the evening chill at bay.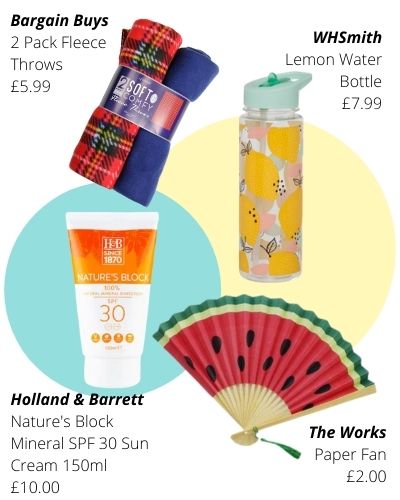 Garden Party Decor
Create an inviting space outdoors with some simple touches. Add some soft seating where kids can chill, Wilko's scatter cushions are perfect for a kids corner, we especially love the bright stripe pattern for a playful vibe.
You can never have too many plants in your garden, so why not add some artificial plants to your table décor like this algave potted plant from Wilko?  Add some soft lighting to your garden with citronella candles from Bargain Buys, these candles will not only keep the bugs away but will also fill the air with the scent of lemons – yum!
It isn't a true English party without a game of croquet.  This traditional game is perfect for all ages and with the Professor Puzzle wooden croquet set from WHSmith it is so easy to set up, you'll be having fun in no time.
Time to Entertain
As your guests arrive, greet them with a welcomed drink. Impress with a Holland & Barrett mocktail recipe, our favourite is the Ginger and Lemon mocktail, tastes so good and your guests wouldn't even know its alcohol free!
Now it's time for the main event – its barbeque time! Set up your cooking station with the right tools for the job, Wilko's charcoal BBQ oil drum has a large grill area with the bonus of a warming rack to keep your food warm – ideal when catering for larger parties. Add some new utensils to help you flip those burgers, Wilko's 3 piece BBQ set and Bargain Buys colourful food tongs will do the trick.
If you're looking for fresh inspiration, a great buy is WHSmith Food by Fire cook book – with a whole range of delicious recipes, you won't be short for ideas to excite your guests – just make sure you have enough for seconds!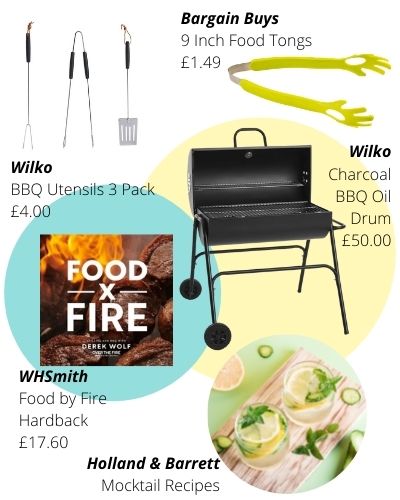 However you decide to get together with family and friends, we hope our top tips have inspired you to get outside to soak up some much-anticipated sun. For more items to get you excited for barbeque season, visit our Pinterest board here.
Prices correct at the time of publishing.