Join in and raise valuable funds for Rowans Hospice with a variety of events happening this year. Read on to find out more.
Challenge yourself to make a leap for Rowans Hospice!
When: 23 May, 25 July, 26 September 2021
Location: Army Parachute Association Netheravon Airfield, Salisbury (SP4 9RY)
Registration: £50 deposit on booking, £150 on the day of the jump (all paid directly to APA Netheravon)
Suggested Sponsorship Pledge: £200
For more details and to register your wish to take part click here and Rowan's Hospice will be in touch to help you pay your deposit and register your jump with the Army Parachute Association. (Participants must be at least 16 years old and under 16 stone.)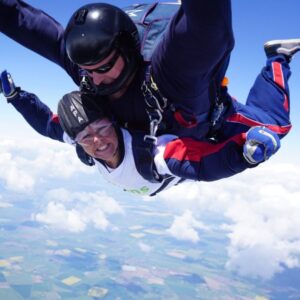 Rowan Hospice invites you to enter their Summer Garden Contest. Whether you're a well-established gardener or have only just started to earn a green thumb, this contest is open to all.
To enter all you need to do is send Rowans Hospice a 1 minute, 360-degree video of your garden by the 15th June 2021.  
All entries will be viewed and shortlisted by the charity and judged by Rebecca Parker from BBC Radio Solent's weekly gardening programme.
The finalists gardens will be showcased on Rowan's Hospice social media platforms and they will invite the audience to make a donation to their favourite gardeners just giving page. The finalists are challenged to raise £250 sponsorship money in support of the hospice.
For more details visit their website.
Moon & Stars Memories Walk – Virtual
Support your local hospice by taking part in this fun event which combines their two most popular fundraisers, the Moonlit Memories Walk and the children's Starlit Walk.
Join in and remember a loved one
When? Saturday 31 July 2021
What? Walk 3, 6, or 9 miles (or choose your distance)
Where? Anywhere you like!
Who? Individually or in a group  of 6
How much? FREE to sign up with a suggested £50 sponsorship pledge or donation
For more info please visit their website.