School's out for summer! Now it's time for fun and frolics with friends and family, ready to embrace the summer like it's 2019.
The stores at the Meridian Shopping Centre have a wide range of products to suit all, from happy campers, to water babies and mini explorers – you certainly aren't short of choice when needing to keep the kids entertained.
Read on to see our top picks to help you create lifelong memories with your loved ones this summer.
If your mini-me loves being at one with nature, then camping is always a good idea. Sleeping under the stars, cooking over a real fire, watching the sunrise and set is what summer holiday dreams are all about for this little camper.
If you are making it out to the great outdoors or are simply camping in your back garden, be prepared and pack the necessities. This pop-up waterproof two-person tent from Wilko's is a great starting point for setting up camp, perfect for a hassle-free camping experience.
A torch is always handy to have on your wilderness trip. The Wilko's LED torch will help you guide your way through the night, plus great for telling stories and making shadow puppets.
Roasting marshmallows will create a childhood memory of joy. Make a fire perfect for such an occasion with Dalby Firewood Charcoal (also Wilko's).
A picnic will be needed when dining outside, The Works have a great 33 piece picnic set to serve your alfresco meals on, and the bright colours scream summer.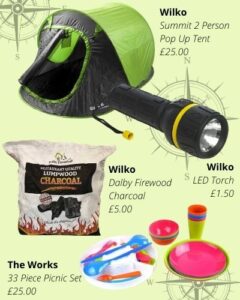 Have fun outdoors with a classic bat and ball game. We love these rackets from WHSmith with this delightful world map print. Why not have a competition to see how long you can keep the ball in the air? 
When out in the wild, apply the Holland & Barrett's insect repellent SPF 30 sun cream to your happy camper's skin. It will stop those pesky bugs irritating them and with the added SPF 30, you will have peace of mind knowing they are protected from the sun's rays. 
Encourage your little ones to keep a journal of their camping experience.  This travel journal from The Works is great for jotting their feelings down and sticking in keepsakes.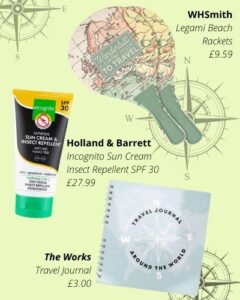 If you're lucky enough to make a trip to the beach, don't forget the essentials for your water babes.
Get them kitted out and ready to hit the waves; Shoezone has these cute Skechers aqua shoes, perfect for protecting little feet when exploring the seaside.
Do your kids love hunting around rock pools? Pick up this fishing net from The Works. It has an extendable arm making it perfect for this activity.
Look for seashells on the seashore and place them in Bargain Buys beach bucket, then get the kids to make a sandcastle and decorate with the shells they've found. 
If you can't make it to the beach, fear not – you can still make a splash in the back garden. Bargain Buys Sea Life paddling pool is great for the little ones and keep them cool all summer long.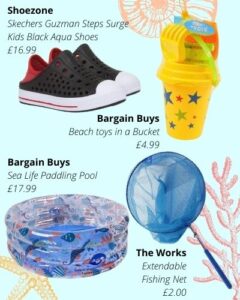 Kids love playing with pool inflatables so why not pick up something fun? WHSmith has a great range to choose from in their summer shop like this Wet N Wild Donut Swim Ring.
A good old fashioned water fight always puts a smile on their faces, and if you dare, what about a fun battle – adults vs kids. The Nerf Super Soaker from WHSmith is the ideal water gun for such a battle.
Why not add some water balloons to the mix in your fierce water fight, you can pick up a pack of 20 neon water bombs from Bargain Buys and keep going until the last man standing.
All adventure seekers need to keep their energy levels up while out on their escapades. Pack a lunch in this handy travel lunch box which comes equipped with cutlery, available from WHSmith.
Don't forget to wash your hands! Holland & Barrett hand sanitiser gel is perfect for cleaning those grubby little fingers.
Keep your little ones hydrated throughout the day. We love this Wilko water bottle with its urban print, fitting for any discoverer.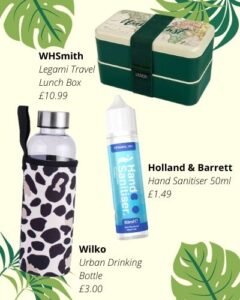 Education doesn't have to stop during the holidays. If you have a mini explorer at home who thrives on learning new things, then we have just the thing.
Expand their knowledge with this fab bird book from The Works, see how many different birds they can spot while out for a walk.
A magnifying glass (also The Works) is essential for this adventurer, ideal for looking up mini-beasts that they find in the garden.
Why not get them learning about bugs with this bug hunter activity set – pick up yours from WHSmith.
You'll need a bag to pop all their explorer tools in; our choice is this multi-coloured dinosaur backpack from Shoezone – it's roar-some!
However you spend your summer holidays, we hope you have a great time with your little ones. Want more summer inspiration for the kids? View our Pinterest board here. You can also check out our summer staycation events happening throughout the holidays at the Meridian Shopping Centre.
Prices correct at the time of publishing.